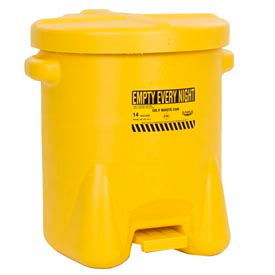 Eagle Poly Oily Waste Cans
Eagle Poly Oily Waste Cans Offer Fire Safe Temporary Storage for Solvent, Waste Rags, Shavings and other Materials Subject to Spontaneous Combustion.

Eagle Poly Oily Waste Cans will not rust or dent and are resistant to most chemical compounds. Oily waste cans feature a self-closing lid with foot lever. Biohazard Waste Cans advise workers of potential biohazards and meet OSHA requirements for exposure to blood borne pathogens. Gallon capacities are 6, 10, and 14. Available in black, red, and yellow. OSHA compliant. FM approved.