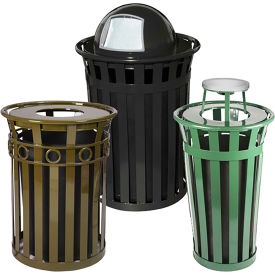 Wydman & Oakley Series Steel Receptacles & Cigarette Urns
Wydman & Oakley Series Waste Receptacles & Cigarette Urns Offer A Decorative & Functional Design That Is Great For Use Outdoors.

Used for parks, city sidewalks, municipalities, university campuses and apartment & office complexes. Heavy duty steel with flat bar slats helps deter graffiti and vandalism. Includes anchor kit for added security. Adjustable leveling feet for uneven surfaces. Powder coat finish. Urn Basket features a galvannealed steel liner. Helps snuff out and dispose of cigarettes. Waste Receptacles with Lid include a lid security chain to prevent theft of lid and a durable plastic liner for easy maintenance. Receptacles are available with 4 Top Lid Options: Ash, Dome, Flat or Rain Tops.
Made in USA.