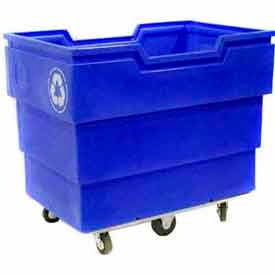 All Terrain And Bulk Recycling Trucks
All Terrain And Bulk Recycling Trucks Are Used For Transporting Recyclable Materials.

Bulk Recycling Trucks are made of chemical resistant polyethylene and torque resistant molded-In I inserts for long lasting durability. Trucks have a wooden base and 5" casters center to provide proper tilting. The swivel hard rubber casters provide easy mobility. White recycle logo. Nestable for easy storage. Dimensions vary by model. Capacity is 18 bushel. Load capacity is 500-800 lbs. Colors are Forest Green, Jade Green, Blue, Yellow, Silver, Orange and Black.