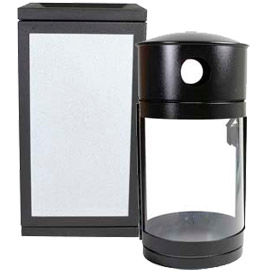 SECURR® Recycling Receptacles
SECCUR® Recycling Receptacles Are Used For Recycling Collection In High-Traffic Areas With Inclement Weather.

SECCUR® Recycling Receptacles are constructed of heavy-gauge galvannealed steel and clear polycarbonate to provide long-lasting durability. Receptacles are built with Top- or Side-opening, Inward Slope Opening, Outward Slope Opening, or Dome w/Side Opening lids designed to allow bottles to enter while keeping non-recyclables out. Units are available in 35-, 36-, and 55-gallon capacities. A side-opening trash removal door allows recyclables to be easily emptied from the side, cutting down on the risks of injury from lifting. Receptacles are available in indoor, indoor perforated, outdoor and outdoor perforated models. Colors available include steel blue, stainless steel, black, black/clear, red and green. ADA compliant.