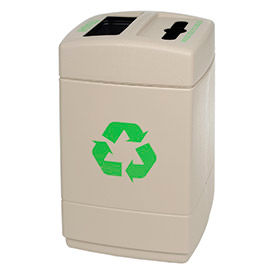 Dual Capacity Recycling Containers
These Large Recycling Receptacles Feature 2 Removable Liners For Efficient & Effective Waste Management.

Recycling containers are made with UV inhibited, high density molded polyethylene that is weather and impact resistant. 3M™ high-strength acrylic adhesive decals are included to offer product labeling that helps easily identifying waste and recycling materials. Dual compartments separate and store specific recycling materials for low maintenance. Includes two removable 27-1/2 gallon liners. Patented Grab Bag System® on liners holds plastic garbage bags in place. 1 Year Limited Warranty.
Mixed Recyclables/Trash Container features 4 " diameter slot for cans/2-1/2" H x 13" W opening for paper and a 6" H x 15 "W opening for trash.
Bottles & Cans/Trash Container features 4" diameter hole for bottles & cans and a 6" H x 15" W opening for trash.