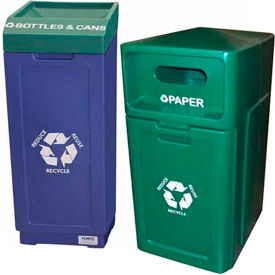 Plastic Recycling Cans
Plastic Recycling Cans Are Great For Indoor or Outdoor Use.

Recycling containers are made from a durable plastic that won't rust, chip or dent and is weather resistant. Forte receptacles come in a variety of lid openings and include decals for clear identification. Available in 39, 42 or 45 gallon capacities, and Green or Blue color. Includes weather resistant decals for easy identification of recyclable materials. Easy snap-fit covered lid features a 6" diameter opening that keeps out rain and snow.