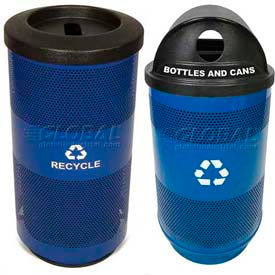 Stadium Series® Perforated Metal Recycling Containers
Steel Recycling Containers Promote Green Compliance In Companies And Office Buildings.

Durable steel containers are perforated for ventilation and provide a stylish, modern appearance to any environment. Includes recycling decals and logo. Non-Returnable; Non-Cancelable.

20 Gallon containers include lift-off recessed lid with choice of Bottle and Can opening or Paper Slot. Restricted lid opening keeps out unwanted waste. Includes 20 gallon plastic liner. Receptacle measures 15-1/2 diameter x 31-1/2 H.

55 Gallon receptacles include lift-off dome lid with 2 recycling openings. Restricted lid openings keep out unwanted waste. Measures 23-1/2"diameter x 40"H (Overall Height 49"). Available with one 55 Gallon Plastic Liner or two 25 Gallon Plastic Liners for disposing both newspaper and bottle/can waste. Bottle Hole Opening is 4 diameter. Newspaper Slot is 2 H x 7 W.