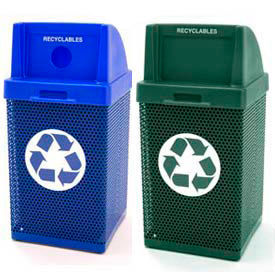 Perforated Metal Coated Recycling Receptacles
Perforated Recycling Containers Feature Graffiti Resistant Metal-Armor Coating That Outlasts The Competition!

Recycling containers include a removable 38 gallon liner for easy waste disposal. Plastic hood comes in Push Door or Bottle & Can styles. Bottle & Can lid has a 5" diameter opening to limit waste access and allow only recycling disposal. Includes vinyl recycling logo and "Recyclables" for clear identification. Steel receptacles have a chip and crack resistant finish that is environmentally safe and made for outdoor environments. Recycling receptacles offer excellent UV protection, impact and abrasion resistance. Free of PVC and doesn't contain chlorine components. Recycling receptacles measure 19-1/2 sq. x 40 H. Complies with California State Law AB1108. Available in Blue or Green. 5 Year Limited Warranty.