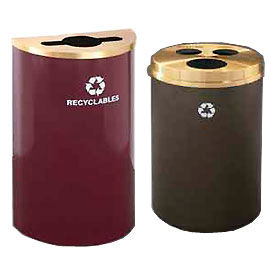 Glaro RecyclePro Receptacles
Multi Purpose Openings Make Recycling Easy And Direct

Recyclepro Series are constructed of all metal. Each model features a timeless cylindrical design which incorporates a durable, aluminum top with different openings for each type of item to be recycled. Choose 1, 2, or 3 lid opening combinations of Paper, Bottles/Cans, Waste, Mixed Recyclables, Glass/Plastic, and Trash. Mix and match body and lid colors to coordinate with any surroundings. Half round and open tops are also available.