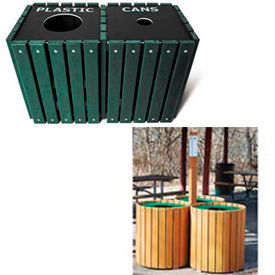 Recycled Plastic Recycling Receptacles
Recycled Plastic Receptacles Are Used For Campuses, Parks, Campgrounds And More.

Recycled plastic receptacles are made from recycled plastic slats and rust-proof recycled plastic rings. Labeled with Recycle decals. UV protectant ensures lasting durability. Recycled plastic is vandal-resistant. Receptacles come in round recycle centers with posts or square indvidual units with multiple openings. Available in a variety of colors and lid types.