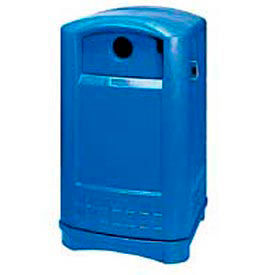 Rubbermaid Plaza® Outdoor Recycling Station Containers
Rubbermaid Plaza® Containers Offer Large Capacity For Any Outdoor Environment!

Plaza® recycling containers are made with easy-to-recognize blue or dark green recycled plastic. Recycling trash cans feature extra large 50 gallon capacity for high traffic areas. Recycling slot is available in Paper or Bottle and Can recycling styles for easy disposal access. Recycling garbage cans measure 24-3/4 L x 25-1/4 W x 42-1/6 H.