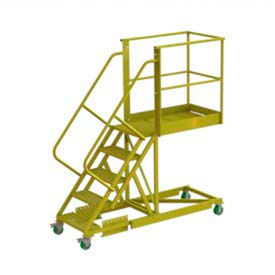 Supported Cantilever Ladders
Supported Cantilever Ladder Securely Holds 300 Pounds For Warehouse And Commercial Needs.

U-Design Supported Cantilever Ladder is constructed from steel and supported by bottom frame assembly for long lasting durability. The ladder is designed with a comfortable 50° stairway incline with 24" Grip Strut or Perforated Steps and locking casters for safety. Available in 30 different configurations, ladder is customizable with 5, 6, 7, 8 or 9 steps Ladder is rated at 300 lb. capacity and powder coated yellow.