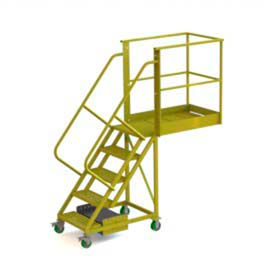 Unsupported Cantilever Ladders
Unsupported Cantilever Ladder Provides Customizable, Flexible Solution For Warehouses And Industry.

U-Design Unsupported Cantilever Ladder is crafted from powder coated steel for long lasting durability. The cantilevered platform is counterweighted allowing the platform to extend into the work area with no obstructions on the bottom of the ladder. Designed with a comfortable 50° stairway incline with 24" Grip Strut or Perforated Steps the versatile ladder is available in 33 different configurations with 5, 6, 7, 8 or 9 steps. The ladder can also be configured as a Supported Cantilever Ladder by removing the counterweight and adding the 20" U-Design Extension Bottom Kit. Ladder is rated at 300 lb. capacity and powder coated yellow.