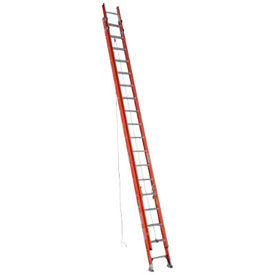 Werner® Aluminum & Fiberglass Extension Ladders
Werner® Aluminum And Fiberglass Extension Ladder

Fiberglass extension ladders feature an exclusive twist-proof Alflo® rung joint design. Ladders include non-conductive interlocking side rails, non-marring molded end caps and molded rung braces. Slip-resistant Traction-Tred® D-rungs are made with deeply serrated aluminum. Durable rail shield bracket and shoe with slip resistant pad. Rugged gravity spring locks. Extension ladders include heavy duty pullet with rope.