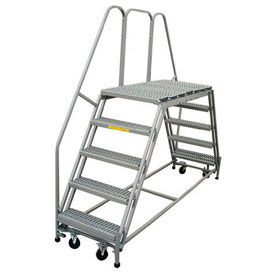 P.W. Platforms Platform Ladders
P.W. Platforms Platform Ladders Go Where Needed to Provide a Secure Workspace Around Warehouse, Plant or Other Industrial Locations.

Platform Ladders are made from 1" square steel tubing for long lasting durability and increased rigidity. Tilt and roll design with rear rigid casters permits easy movement around the work site. Ladder includes front stabilizing legs and rubber tipped feet for increased stability while working. Choose Perforated Steps for slip resistance or Serrated Steps for maximum safety in wet and oily environments. Single Entry or Double Entry platform ladders available to meet specific working conditions. Some ladders include 30"H handrails for additional safety.