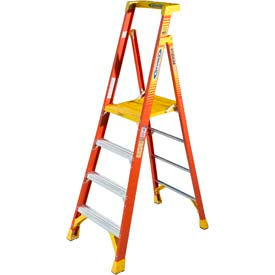 Werner® Fiberglass Podium Ladders
Werner® Fiberglass Podium Ladders Allow Convenient Elevated Access For Maintenance Jobs, Construction Sites, Painting, and more.

These step ladders are easier to maneuver than scaffolds or lifts. The extra-large platform with toe guard feels like you are standing on the ground and 4X Work Zone allows you to work facing any direction. Full aluminum bracing and a full set of rear horizontals. The LOCKTOP™ extended guardrail provides an extra point of contact and conveniently organizes tools and accessories. Podium Ladder with Casters includes factory installed casters for added mobility. 300 lb. and 375 lb. capacity models are available.