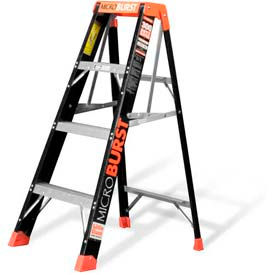 Little Giant® Fiberglass Step Ladders
Little Giant® Fiberglass Step Ladders Can Be Used In Both Industrial And Residential Applications.

Little Giant® Fiberglass Step Ladders are constructed of non-conductive, fade resistant black fiberglass resin (or composite depending on model) for long lasting durability and strength. The lightweight, portable design allows for easy movement and storage. The sturdy construction is rated to hold 300 lbs. Type 1A MicroBurst Fiberglass Step Ladders have a unique, pivoting top cap and a patent pending StableLock spreaders system that fundamentally changes the standard stepladder model. As the top cap pivots, the MicroBurst's rails fit neatly inside each other for easy carrying and storage. StableLock spreader system locks securely in place, creating a solid A-frame structure with no room for shifting or walking. Type 1A Select Step Fiberglass Step Ladders With Air Deck provide a comfortable standing platform that offers heel to toe support at the top recommended step. Safe to use on staircases and uneven surfaces, as well as near electrical circuits. Wheels make moving from job to job quick and easy. AirDeck includes magnetic tray, drill holder, paint holder and power cord slot. All ladders come in Black/Gray. Dimensions, extensions and number of steps vary from model to model.