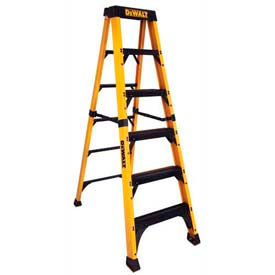 DeWalt® Fiberglass Step Ladders
DeWalt® Step Ladders Are Used For Commercial And Industrial Applications.

DeWalt® Step Ladders are made of sturdy Fiberglass for long lasting strength and dependability. Durable tops with magnets and multiple tool slots. Automatic closing pail shelves provide ease of use. Pull spreader braces improve stability and ease of use. Large step surface provides comfort. Includes slip-resistant aluminum shoes. Type 1, Type 1A and Type 1AA models are available in 4, 6, 8, 10 and 12 foot heights with 250, 300, 375 and 500 lb. load capacities. Color is Yellow. Dimensions vary per model.