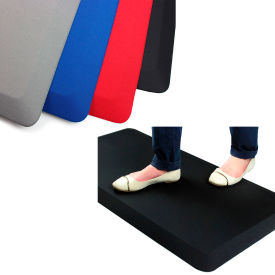 4/5" Thick Polyurethane Standing Comfort Mats
Polyurethane Standing Comfort Mats Are Designed For Studios, Workshops, and Kitchens.

Polyurethane standing comfort mats feature an enlarged body design and soft surface to reduce strain during longstanding durations. Anti-slip base offers added stability on all floor types. Mats are ideal for use on carpets, rugs, and hard floors. Compact, lightweight design is easy to store and transport. Available Colors are Black, Blue, Gray, and Red. Dimensions and additional specifications vary per model.