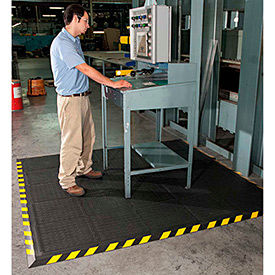 Andersen Hog Heaven Modular Mats
M+A Matting-Hog Heaven III Modular Tile Comfort , Tile Comfort with Grit Surface
Modular Tile Comfort and Modular Tile Comfort with GRIT have an outstanding anti-fatigue qualities in a modular design with a newly designed all-rubber locking system that allows for larger custom installations with extra strength at the connection point for repeated stress on the connection points. Available in 36x36" or 18x18" modular mats, both sizes with available
"grit top"
options. Create a complete ergonomic flooring system, closed cell nitrile rubber surface offers chemical and oil resistance. Electrically conductive.Surface is molded to the cushion backing and will not delaminate, curl or crack. These mats are welding safe and
electrically conductive
. Offered in black or yellow striped borders. Modular Tile Comfort mats are designed for dry areas.
M+A Matting Hog Heaven III Modular Traffic Mats
Interlocks with Hog Heaven III Modular Tile Comfort to create a complete ergonomic flooring system.Versatile modular design with a wedge locking system that allows for larger custom installations. Available in 36 x36" or 18x18" modular mats. Create a complete ergonomic flooring system, molded nitrile rubber surface is molded to the backing and will not delaminate, curl or crack. These mats are
welding safe and static dissipative
. Offered in black or yellow striped borders. Modular Traffic mats are designed with cart traffice in mind. Static dissipative
Configure to fit customizations
Welding safe
3/4" Thick
100% Rubber (15-20% Recycled content)
Rinse with hose or pressure washer