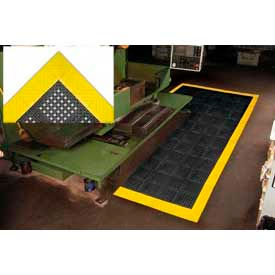 1" Thick Diamond Plate Recycled Anti-Fatigue Drainage Mats
NoTrax® Diamond Flex-Lok™ Safety Mats Combine Ergonomic Comfort And Support With A Clean And Safe Drainage System.

Anti fatigue safety mats are made with 100% recycled PVC that is chemical, oil and grease resistant; Yellow Borders are not made from recycled material. Multi-tiered footing design elevates mat off the floor to create air pockets that allow ergonomic support. Safety mats feature 7/8 diameter drainage holes that facilitates the removal of liquids and debris without clogging. Mat surface has a raised diamond tread pattern for slip resistance. Beveled edge borders help eliminate trip hazards for safety and feature a raised, inverted V-pattern for traction. Beveled ramp mats are available in 3 or 4 sides to eliminate trip hazards. ISO 14001 registered. Choose between All Black mats or Black with Yellow Borders.