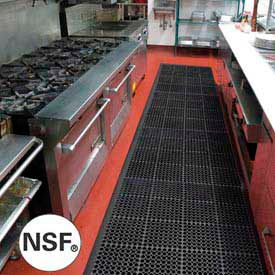 San-EZE® Grease Resistant And Greaseproof Mats
San-EZE® Grease Resistant and San-EZE II® Greaseproof Mats Are Used For Providing Steady Traction On Wet Or Greasy Work Surfaces.

Mats are made for long lasting durability and dependability. Designed for areas with frequent spills and standing water. Heavy duty Nitrile Rubber Blend provides superior comfort during long-term use. Perforated texture surface provides sure traction and quick drainage. 7/8" thickness provides comfort for workers during a full time shift. Beveled edges on 2 sides for safety. Available in Black, Brown, or Brick Red in a variety of sizes and shapes. NSF® certified. Limited warranties: Black - 3 Year, Brown - 4 Year, Brick Red - 7 Year.