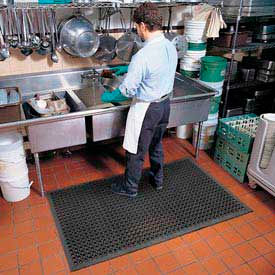 Tek-Tough® And Sanitop® Mats
Tek-Tough® and Sanitop® Mats Are Designed For Long-Term Standing Work Stations For Kitchens, Washing Stations, and more.

Tek-Tough® and Sanitop® mats provide both anti-fatigue and drainage support for surface areas prone to spillage. Perforated surface texture offers quick liquid drainage. Select models include built-in beveled edges for added safety. Heavy-duty rubber construction provides lasting comfort and durability. Specifications vary per model.