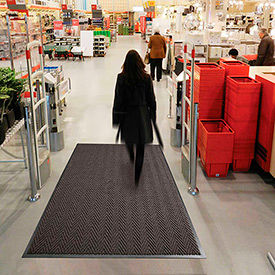 NoTrax® ArrowTrax® Carpet Entrance Mats
NoTrax® ArrowTrax® Carpet Entrance Mats

Arrow Trax® mats provide exceptional performance in highly visible areas that require a subtly attractive yet functional matting product. The durable herringbone pattern offers non-directional scraping action and moisture retention, and a full 40 ounces of needle-punched yarn per square yard provides the highest degree of crush resistance in heavy traffic areas. Heavy-weight vinyl non-slip backing ensures minimum movement. For Cut Length Mats, price is per linear foot. To specify orders in linear feet, please enter the number of mats desired in "Quantity" and add to the "Shopping Cart"where you can specify number of linear feet in "Length". All custom cut mats are not returnable.