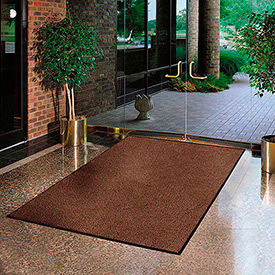 Tufted Loop Pile Carpet Entrance Mats
Tufted Loop Pile Carpet Entrance Mats

Estes®features a fashionable high/low Decalon® looped pile captures debris and dries foot traffic while maintaining its attractive appearance. It is perfect for any main entranceway or high traffic area. A heavy-weight vinyl non-slip backing ensures minimum movement. Uptown™ high-low looped Decalon® pile provides functionality for drying and retaining moisture and debris, while offering an upscale, elegant look. The ultimate in moisture absorption and crush resistance standing up to the heaviest traffic areas.Heavyweight vinyl backing available in corresponding colors. WaterguardBi-level construction keeps dirt and moisture trapped beneath the shoe level. Polypropylene carpet dries quickly and will not rot, 100% rubber backing for maximum durability. Designed for indoor and outdoor use.