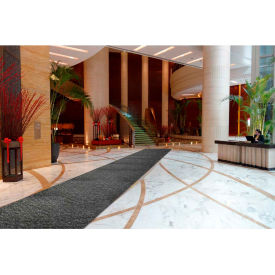 NoTrax® Grip-Sorb™ Entrance Runner Mat
NoTrax®Grip-Sorb™ 34"W Full 100 Ft Roll, Charcoal

Grip-Sorb™ is a thin, commercial absorbent runner that sticks. Adhesive backing holds tight but peels up easily without leaving sticky residue behind and re-positioned as needed. Strong enough to adhere in even the toughest conditions and stays put even when wet. Easy adherence for high traffic aisles, walkways and vehicle traffic. Cut to desired size with a knife. Stays in place and flat to prevent slips, trips and falls. Strong needle-punched polypropylene top absorbs oil, solvents and water-based spills and wicks it away so mat dries quickly to keep floors dry and safe. Can be vacuumed, swept, mopped or floor scrubbed over. ADA compliant for wheelchairs and walkers. Goes anywhere you need it, recommended for grocery stores, restaurants, hospitals. ADA compliant.