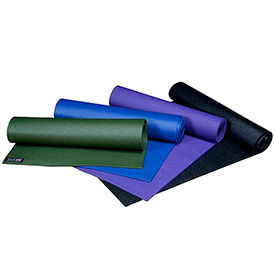 Exercise and Yoga Mats
Exercise and Yoga Mats are used for Personal Training Centers, Gyms, or Yoga Studios.
Exercise and Yoga Mats have a 3/8" padded surface and insulation for comfortable floor exercises. The closed-cell foam structure provides durability and comfort. They are odor, stain, and moisture resistant. Easy to clean, roll, and store. Mats have 2 holes for convenient hanging storage. Styles are
Hanging Mat or Yoga Mat.
Exercise Mat Cart also available.
Available lengths range from 48" - 72"
Closed-cell foam structure provides comfort
Widths are 23", 24", and 25-1/2"
Colors are Midnight Blue and Jet Black