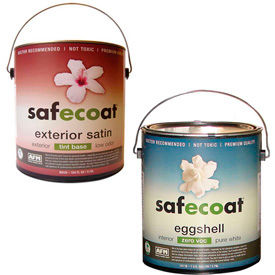 Safecoat Paints & Primers
Safecoat Paints & Primers Are Premium Quality Paints Specifically For Areas Where Occupant Health Is A Concern.

Safecoat Paints & Primers are fast curing paints designed for schools, hospitals, homes, offices - anywhere occupants want to reduce exposure to toxic chemicals. Free of formaldehyde, ammonia, crystalline silica, or ethylene glycol, Safecoat paints and primers are odor-free during application and once cured. Provides a soft sheen for areas not generally exposed to high traffic. Tintable to thousands of colors with zero VOC colorants. Styles, types and package quantities vary by model.