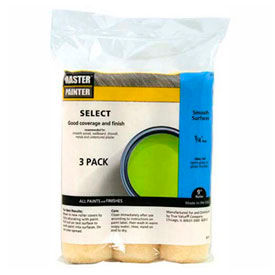 Painter Roller Covers
Painter Roller Covers Provide a Smooth Uniform Finish To Exterior and Interior Surfaces.

These roller covers are made of knit or woven fibers to provide superior paint absorption for improved efficiency and productivity. Roller covers provide effective coverage with both latex and oil based paints. Variety of types available including Rough, Semi Rough, Extra Rough, Semi Smooth and Smooth to paint textured walls, smooth surfaces, outdoor decks and more. Nap thicknesses are 1/4 inch, 3/8 inch, 1/2 inch, 3/4 inch, 1 inch and 1-1/4 inch. Sizes are 3 inch, 4 inch, 7 inch, 9 inch and 18 inch. Some paint rollers sold in package quantities for cost savings.