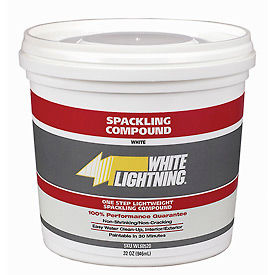 Putty and Spackling Compounds
Lightweight Spackling Compound Is A Smooth Formula That Features No Shrinking Or Cracking And A Fast Dry Time For Use On Various Touch-Up Applications.

These compounds require only one coat due to excellent filling capacity. Rust won't bleed through spackle. Mildew resistance and superb color retention makes these spackles perfect for interior and exterior use. Used for filling holes and cracks in most common construction surfaces. Easy water clean-up.