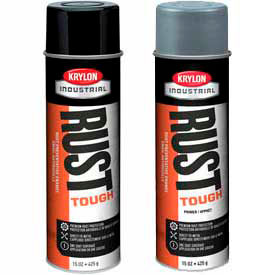 Rust Preventative Spray Paints
Rust Preventative Spray Paints for All Metal Protection
Rust-preventative acrylic alkyd enamel aerosols offers state-of-the-art corrosion protection.
Complete coverage with one coat
Dries to touch in 25 minutes; dries to handle in 1 hour
Used for small touch-up jobs, painting irregular shapes or covering hard-to-reach areas
For both indoor and outdoor use
Tough, high gloss finish resists chipping and peeling
Recommended Uses:
Steel, aluminum, properly primed metal and wood, structural steel, storage tanks, bar joists, handrails, piping, pipe racks, conveyors, ladders, fencing, machinery, metal doors and marine applications above boot topping. Note: Not recommended for immersion.
Must be 18 or over to purchase this product.