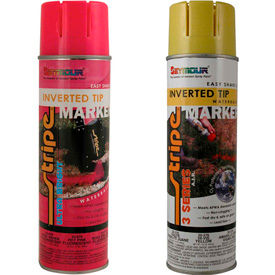 Stripe® Street & Utility Marking Paint
Stripe® Street And Utility Marking Paint Features A Specialized Tip For Applying Paint In An Inverted Position To Produce Vivid Lines.

Stripe® Street And Utility Marking Paint provides a fast drying permanent marking paint for use with parking lots, landscaping, construction sites, golf courses, and other outdoor markings. Paint is safe on grass and features a non-clogging formula that will not wash away for long lasting durability. Uses a patented technology to cut the environmental impact in half (as compared to a standard solvent based marking paint). Comes with patented tear away cap. Includes less VOC's, VIC compliant and meets APWA color standards. Available colors include Alert Orange, Aluminum, Black, Blue Fluorescent, Green Fluorescent, Hi-Viz Yellow, Fluorescent Orange, Pink Fluorescent, Precaution Blue, Red Fluorescent, Safety Green, Safety Red, Utility Yellow, and White. Package quantity is 12 per case.