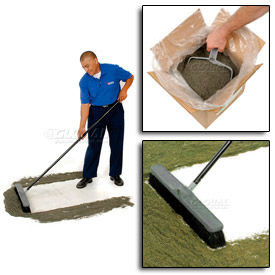 Sweeping Compound
Sweeping Compound To Provide Environmentally Safe Clean-Up.

Great for hard floor surfaces including concrete, wood, tile and vinyl or synthetic floors. Patented non-petroleum based sweeping compound offers superior dust control and dirt collection. Compound is manufactured from all recycled materials. Won't mark floors or leave oily residue. Sweeping compound offers safe disposal.

Oil Based Compound ensures smooth and easy sweeping. Highly absorbent formula attracts and traps dust and dirt. Clear labeling helps ensure correct usage.

Non-Petroleum Based Compound picks up surface dirt and dust without leaving an oily residue. Environmentally safe material includes special detergents for maximum cleaning power. Safe for all hard floors including concrete, wood, tile and vinyl. Non-combustible. Compound is not oil absorbent.