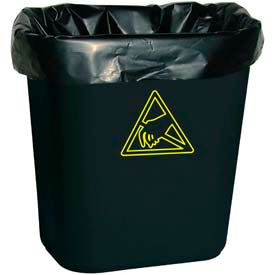 Dissipative Anti-Static & Conductive Trash Liners
Dissipative Anti-Static and Conductive Trash Liners Provide Static Control for Clean Rooms, Quality Control, Research Areas and more.

Dissipative anti-static and conductive trash liners are non-sloughing, non-contaminating, and conductive. Polyethylene construction is extremely durable. Available types are Conductive and Dissipative. Thickness is 2mil and 3.0 mil. Gallon capacities are 10-55 gallons. Dimensions vary per model.