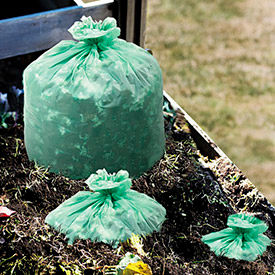 Stout® Biodegradable & Compostable Trash Bags
Stout® Biodegradable & Compostable Trash Bags Are Extra Strength, Fast Acting and Eco-Friendly!

Green Compostable Trash Bags meet ASTM 6400 certifications for compostable plastics. 100 percent biodegradable and compostable, totally degrading in 10 to 45 days in commercial compost, control odor and dissipate moisture.
Brown or White Totally Biodegradable Trash Bags are designed for waste destined for the landfill. Fully degrade within 18 to 24 months when disposed of in commercial landfills and leave no harmful residues. Will biodegrade within 36 months with the presence of sufficient oxygen and microbial activity. The only byproducts of degradation are water and carbon dioxide. Stout Seal to protect and secure valuables and Total Recycled Content Bags-both made of 100% recycled resins. Various colors, densities and sizes are also available for all of your specific needs.