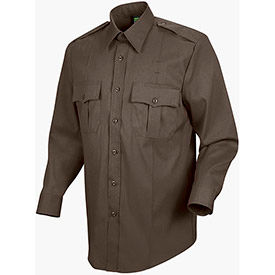 Horace Small™ Deputy Deluxe Shirts
Horace Small™ Deputy Deluxe Shirts Are Heavy Duty Uniform And Work Shirts.

Horace Small™ Deputy Deluxe Shirts are made with a tropical weave of 65% Polyester/35% Rayon blend to provide long lasting durability that retains color for continuous wash and wear. Shirts have two-ply fabric and silicone permanent creases to provide additional material stability. Break-resistant melamine buttons are strong enough for industrial work environments. Added length to sides keeps shirt tucked. Shirts are designed to accommodate body armor. Men's and Women's sizes available in 14 x 31 to 20.5 and from S-2XL. Available colors are Brown, Dark Navy, French Blue, Gray, Light Blue, Silver/Tan and White. Available in Long- or Short-Sleeved.