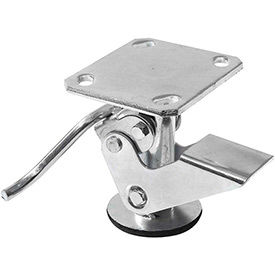 Global Industrial™ Floor Locks
Global Industrial™ Floor Locks Provide Loading Cargo Security and Containment For Fleet, Distribution, Material Handling, and Other Related Applications.

Floor Locks are designed to prevent accidental content movement while ensuring personnel safety and protection. Unit locks mount to the underside of platform trucks, lift tables, and carts to immobilize them while loading and unloading cargo. The units are made of a zinc plated steel construction to prevent corrosion in moist and outdoor environments. Top plate measures 4" x 4-1/2" with slotted holes for simple mounting. Simply step down to lock, and then again to unlock. Rubber footpad provides surface protection. Dimensions vary per model.