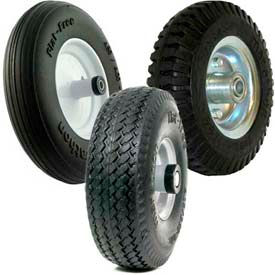 Marathon Flat Free Tires & Wheels
Marathon Flat Free Tires and Wheels Provide Similar Properties of Air-Filled Tires While Minimizing the Possibility of Flats.

Marathon flat free tires and wheels are constructed of polyurethane foam with ball bearings for lasting durability. Choose from 17 different styles, including tires from 6" to 18.5" diameter. Available with Steel Rims or Plastic Spokes in Sawtooth, Jag, Centipede, Ribbed and Knobby Tread Designs. Tires and wheels are not for highway use. Dimensions vary per model.