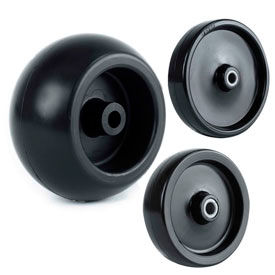 Martin Wheel Lawn Mower Tractor Deck Wheels
Martin Wheel Plastic Deck Wheels are Economical Replacements for John Deere Lawn Mower Deck Wheels.

Martin Wheel Lawn Mower Deck Wheels are made from heavy hard plastic for long lasting durability and performance. Smooth tread offers uniform distance between deck and ground for even turning. Replacement wheels are produced to meet manufacturers' specifications. 1/2" bore with either plain or bushing type bearings. 50-lb. capacity. Dimensions vary by model.