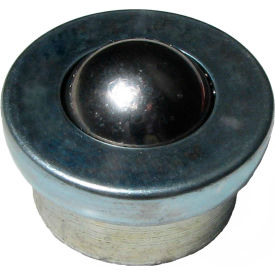 Ashland Conveyor Ball Transfers
Ashland Conveyor Ball Transfers are used for Applications including Industrial, Manufacturing, Distribution and more.

Ashland Conveyor Ball Transfers are made of high quality materials for long lasting durability and dependability. Transfers allow convenient change of direction, maneuverability and rotation of tools, fixtures, products, assemblies and more. Units allow mounting flexibility and minimal ball exposure. Available styles include Countersunk, Countersunk Flange, Countersunk Low Profile Flange, Drop-In, Flange, Flange w/ Neoprene Cushion and Threaded Stud. Weight capacities range from 17 to 500 lbs. Package quantity is 1. Color finishes are Black Oxide and Silver. Dimensions vary per model.