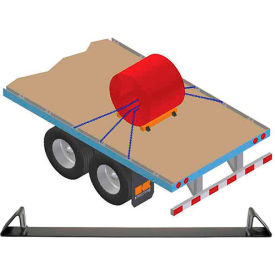 Kinedyne Coil Chock Rack - Steel Coil Bunk
Kinedyne Coil Rack is designed to aid in supporting Steel Coils on Flatbed Trailers.

Kinedyne Coil Racks, also known as Coil Chocks or Steel Coil Bunks, are used in conjunction with hardwood timbers to stabilize metal Coils in the Flatbed Truck load securement process. They are used with lumber blocks which provide extra cradling of the Coils, as new D.O.T. Standards specifically address the securement of these Coils. Hot rolled 10 gauge steel construction features a black painted finish.