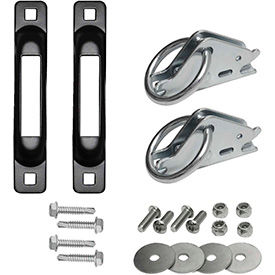 Snap-Loc™ Cargo Control System Kits
Snap-Loc™ Cargo Control System Kits Secure Loads for Applications Including Construction, Industrial, Transportation, and more.

These kits are made of high quality materials for long lasting durability and dependability. Kits offer anchoring options for securing and transporting heavy duty material and equipment. Powder coat finish provides corrosion resistance. Available types include Cart Strap Anchor Kit, Dolly Strap Anchor Kit, Hang-It Kit, Ladder Safety Strap Pack, Pro-Pack, Ratchet Pack, Safety/Earthquake Pack, and more. Ultimate load limits are 3000 and 4400 lbs. Working load limits are 1000 and 1467 lbs. Dimensions vary per model.