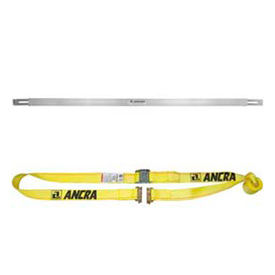 Ancra® Interior Van Cargo Control Restraints & Tiedown Straps
Ancra® Interior Cargo Control Beams and Tiedown Straps are designed for Securing Interior Loads Within Vans.

Ancra® interior cargo control beams and tiedown straps wrap and confine oversized loads. Decking/Shoring Beams are suitable for cargo operations in need of superior strength to weight ratio. Select units are brightly colored for high visibility. Length range is 12-20". Ultimate load limit range is 2500-9000/7500 lbs. Specifications vary per model.