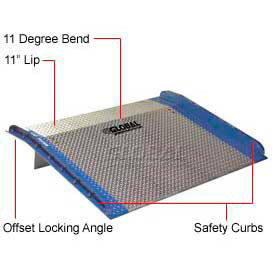 Heavy Duty Aluminum & Steel Dock Boards
Heavy Duty Aluminum and Steel Dock Boards Speed Up Loading Operations, Prevent Accidents and Reduce Labor Costs.

Heavy Duty Aluminum and Steel Dock Boards are designed with an anti-skid diamond tread surface for unit stability and safety. Loading Dock Boards have tapered curbs that help prevent tire damage. Curb provides full-length handgrip for ease and safety in handling. Beveled dock plate ends offer smooth entry and exit. Safety stop on underside of Dockboard fits snugly between truck and dock so board will not move under load. These Dockboard Bridges feature an 11" entry lip and an 11 degree angle is supplied unless another angle of operation is specified. Meets OSHA requirements 1910.30(A). Dimensions vary per model.

NOTE:

CAPACITY is the combined weight of your maximum pallet load and lift truck. Capacity is rated for a single shift with equipment speeds of 3 mph maximum. For multi-shift operations, 3-wheeled forklifts or trucks using paper roll clamp, please add 5000 lbs. to the board capacity.

WIDTH should be 12" greater than lift truck or load. The most popular width is 60". Usable width is 4" less than overall width.

Stackers, 3-Wheeled Forklifts and other Narrow Aisle Loaders should not be used on a dock board. Refrigerated trucks require special Dockboards; please call for information.