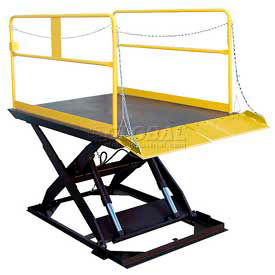 Electric Power Truck Scissor Dock Lifts
Electric Power Truck Scissor Dock Lifts are used for Servicing Trailers with a Pallet Truck when a Loading Dock is Not Available.

Scissor Dock Lifts are engineered and designed for maximum safety and efficiency for long lasting use. Heavy duty welded steel platform offers durable slip resistant treadplate surface, and includes perimeter electric toe guards. Hydraulic cylinders feature emergency velocity fuse should the line break. Shipped complete with upper travel limit switch and overload relief valve. Dock Scissor Lift is operated using a 6-1/2 HP 460V, 3-phase 60 Hz motor that can be remotely mounted up to 8' away. Loading Dock Lift includes push-button 24V AC hand control with a 20'L coiled cord. Pre-wired control box includes magnetic starter and overload fuse. Includes high-visibility removable handrails and fixed toe boards for operator safety. Dock Lift can be surface or pit mounted, or order the Optional Semi-Portability Kit that includes wheels and a dolly jack for mobility. OSHA and ANSI compliant.

Custom Sizes, Voltages, Capacities and USPS versions are available; please call for more information.