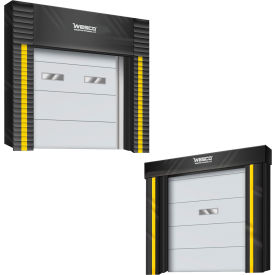 Wesco® Dock Door Seals
Wesco® Dock Door Seals Defend Against Bugs, Inclement Weather and Other Environment Intrusions.

Wesco® Dock Door Seals offer protection from harsh climates, debris, dirt, while conserving energy costs. Each model features a fixed head pad for maximum sealing attachment, full height yellow guide strips, and a condensation drainage system. Seal base design is contains 40 oz high-tear abrasion resistant fabrics and double lock stitched seams. Some models include replaceable wear pleats. Heavy duty vinyl material provides lasting endurance and support for a variety of dock doors. Dimensions and additional specifications vary per model.