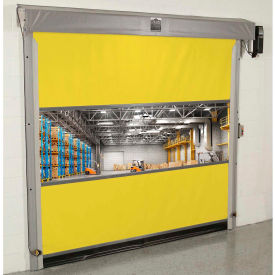 Goff's High Performance Dock Doors
Goff's High Performance Dock Doors are best used in high traffic environments such as distribution, manufacturing, climate control facilities, and general warehouses.
Constructed of all non-corrosive components, High Performance Doors can be used in wash down applications such as food and beverage production and processing.
Features:
Separates different climates and temperatures.
Creates a seal on the door opening to reduce dust or air born containments from entering a protected area.
Includes full width window, roll cover, and reflective safety photo eye.
Individually replaceable door panels, reduce repair costs.
Manual hand crank is included for use in case of power outage.
Door is operated with a motorized lift that opens and closes the door, via a 480V 3-phase direct drive electric motor that can move as quick as 42" per second and up to 120 cycles/hour. Varies per model.
Note:
Additional sizes, styles, colors, alternative motor horsepower, voltages/phases, and left hand mounted motors are available via a Special Order; Please call for more information.