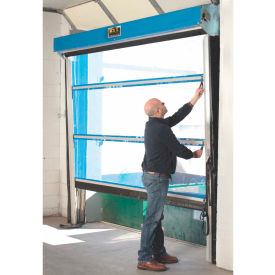 Goff's Roll-Up Screen Dock Doors
Goff's Roll-Up Screen Dock Doors keep Bugs, Birds and Intruders Out While Allowing Fresh Air In.
Goff's Roll-Up Screen Dock Doors are used in food grade facilities or facilities that require air flow at exterior door openings. Non air-conditioned spaces are able to stay cooler for longer periods of time.
Features:
Powered by Spring-Loaded or In-Tube Motor
Helps meet AIB, USDA and sanitary inspection standards.
11 oz. Pre-coated Woven Vinyl Polyester Mesh
Three Types of Installation Methods Available:
Surface Mounted directly to the wall, Projection Mounted around an existing door, or in Jamb/ Under Header Mounted.
Note:
Additional sizes, styles and colors are available via a Special Order; Please call for more information.