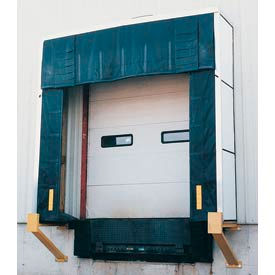 Rigid Dock Door Shelters
Rigid Dock Shelters Provide a Tight Seal around the Frame of Dock Doors to Prevent Weather, Dust, Insects and Exhaust Fumes from Entering the Building during Loading/Unloading.

Dock Shelters reduce oversized doors to match the Truck opening. Seal is formed along the sides and top of Trailer when the vertical and top panels are pushed inward by the Trailer. Shelter consists of 3 pieces (left, top and right) and fits around Dock Doors up to 10'W x 10'H for a usable opening of 7'6"W x 8'H.

Long wear, 40 oz. black Vestex™ polyester, reinforced vinyl pleats are highly resistant to abrasion and tearing. Fiberglass staves are sewn into the flaps for impact resistance and door protection. Shelter sides are covered with nylon reinforced translucent vinyl to allow sunlight in. Support frame is constructed of 2" x 4" wolmanized treated wood for years of reliable use. Dock Shelters include a pair of foam-filled corner pads to increase seal and a pair of safety yellow steel guide protectors. Mounting hardware is included.

The top header piece measures 132"W and contains a 36"H drop curtain. Two vertical pieces measure 126" tall with vertical flaps measuring 21"W.

Minimum 10" trailer penetration is recommended for a good seal.

Note: Custom Sizes are available; please call for more information.