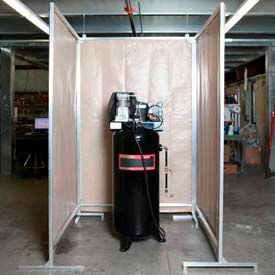 Goff's Air Compressor Sound Screens
Goff's Air Compressor Sound Screens are Designed to Dramatically Reduce Harmful Industrial Strength Compressor Noises.
Goff's Air Compressor Sound Screens are made of water, mildew and rot resistant 18 oz. vinyl for long lasting durability and dependability. Specifically designed for 5-10 HP Vertical & Horizontal Piston Drive Reciprocating Compressors. Reduces noises by up to 45dB with typical STC* of 26 within the coverage area. Panels are constructed of viscoelastic acoustic damper with suspended mineral particles and an aluminum constraining layer. Panels are attached to a portable, heavy duty, yet lightweight 1-3/16" extruded aluminum frame. Custom sizes and other colors available; Please call for more information.
Limited 5 Year Warranty.
Note:
There is a 4" gap from the bottom of the curtain to the floor to allow air to flow through.
Note:
Sound transmission loss is based on Frequency; Please see Chart below for specific dB reduction.
Sound Transmission Loss (db)
Frequency:
125
250
500
1000
2000
4000
STC*
dB:
12
16
25
32
38
45
29
*STC - Sound Transmission Class